| | |
| --- | --- |
| | |
| David and Sandy Mirisch are shown with Oscar, Emmy, Tony and Golden Globes Award winner Julie Andrews where her late husband director Blake Edwards was honored at The Gig Harbor Film Festival in Gig Harbor, Washington. | |
| | |
| | |
| David and his friend Joe Mantegna who stars as "David Ross" on the hit television series CRIMINAL MINDS. | |
| | |
| | |
| David and Sandy with legendary movie star Mickey Rooney and his wife. Taken May 7,2011 at The San Diego Air & Space Museum. | |
| | |
| --- | --- |
| | |
| May, 2010 – David (second row, second from right) recently had 16 outstanding athletes including seven Olympians, attend a fundraising event for The Encinitas Chamber of Commerce that featured a performance by the legendary skateboarder, Tony Hawk. | |
| | |
MISSOULA, MONTANA- 2010
(L-R)- Kaitlin Sandeno (Olympic Gold Medal Swimmer), CariDee English (Winner of "America's Top Model"), Mathew Gray Gubler (Criminal Minds), Jeff Zinn (writer), Leann Hunley ("Dynasty"), Patrika Darbo ("Days of Our Lives")and Scot Elrod ("Men In Trees).
MISSOULA, MONTANA R&R – A day of trap-shooting.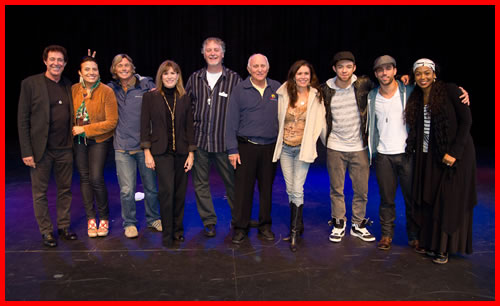 MOONLIGHT AMPHITHEATRE, VISTA, CALIFORNIA – October, 2010
Celebrity judges for a school talent contest included our friends Barry Williams (The Brady Bunch), Christopher Atkins (The Blue Lagoon), Judy Norton (The Waltons) and Gloria Torres (Hola America).
| | |
| --- | --- |
| | |
| 2010- Brady Bunch agent Sandra (Kelman) Mirisch and Chris Knight, "Peter Brady" reunite at Sherwood Country Club for LA Fireman's Fund Charity event | |
| | |
| | |
| --- | --- |
| | |
| Pictured at the Laguna Niguel 2008 Holiday Parade were David and the celebrities who participated in the Parade: (L-R) Bill Sharman, in the NBA Hall of Fame; Ed Arnold, local newscaster; Lauren Maher, who was one of the "wenches" in the "Pirates of the Caribbean" films; Robert Ming, Mayor of the city of Laguna Niguel; Anna Maria Perez de Tagle, who will soon be in the new TV series "Fame"; and Jerry Mathers, the "Beaver" on "Leave it To Beaver." | |
| | |
| | |
| --- | --- |
| | |
| David and six of Hollywood's most beautiful actresses. This was taken at the Ronald McDonald House Mini Grand Prix. (L-R) McKenzie Westmore, Jamie Bergman, Kelly Packard, Candice Daly, Alison Sweeney and Natasha Allas (former Miss World USA). | |
| | |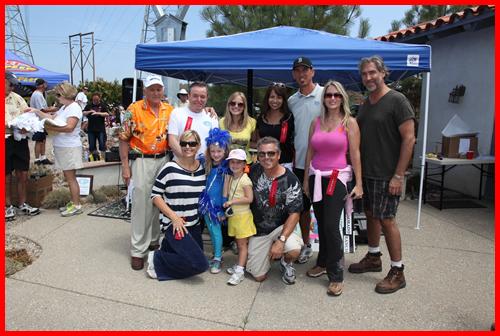 David (far left) with celebrities at Carlsbad Lagoon Day Walk 2011.
Jerry "The Beaver" Mathers, Jenn Gotzon, Millena Gay, Roger Clark, Lydia Cornell, Mike Smithson
Front row: Brenda Epperson Christopher Knight of "The Brady Bunch."
| | |
| --- | --- |
| | |
| David with Alan Thicke, Cris Judd and Mickey Jones at The Foundation for The Junior Blind Vision Ride that was recently held in the Malibu Mountains. | |

Celebrities who participated in the First Annual California Firefighters Association Celebrity Texas Hold-Em held at Hollywood Park Casino in Inglewood, California.